Community Shop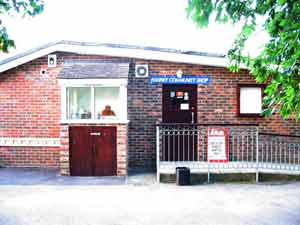 The Community Shop - attached to the village hall- is open every day, except Sunday, from 9:00 am to 5:00 pm. We have a Post Office- open 9:00 am to 1:00 pm every day except Tuesday when it closes at 12 noon.
The shop, managed and staffed by volunteers from the village sells general groceries, cleaning products, cards and stationery and children's books, paints, etc., toiletries, snacks, hot and cold drinks, confectionery, ice-creams, local meat (from Dews Meadow Farm), frozen fish and some pharmaceutical products.
Fruit and vegetables, bread and milk are delivered every Monday, Wednesday and Friday and fresh filled rolls every Monday and Thursday. Freshly baked cakes arrive every other Thursday and are always in stock.
The shop has now been open for over 30 years and is the central point for advertising and selling tickets for village events and displaying advertisements. We would love to see you and you can request any goods which you may wish to buy regularly if they are not already stocked. We look forward to seeing you!
Address
Brookside, East Hanney, Wantage, Oxfordshire, OX12 0JL.
Shop - t 01235 867408
Post Office - t 01235 868320
Opening Times
| Day | Shop | Post Office |
| --- | --- | --- |
| Sunday | Closed all day | Closed all day |
| Monday | 09:00 - 17:00hrs | 09:00 - 13:00hrs |
| Tuesday | 09:00 - 17:00hrs | 09:00 - 12:00hrs |
| Wednesday | 09:00 - 17:00hrs | 09:00 - 13:00hrs |
| Thursday | 09:00 - 17:00hrs | 09:00 - 13:00hrs |
| Friday | 09:00 - 17:00hrs | 09:00 - 13:00hrs |
| Saturday | 09:00 - 17:00hrs | Closed all day |