Hanney Bellringers
Campanology in Hanney
The Bells of St. James the Great have been heard by Hanney residents for perhaps 12 generations, rung by an enthusiastic band of ringers. The ancient bells, most of which were cast way back in 1702, the same year Anne became Queen, are acknowledged as a 'fine heavy ring of six'. They range in weight from five and a quarter hundredweight for the treble, the smallest bell, to over eighteen hundredweight for the largest, the tenor.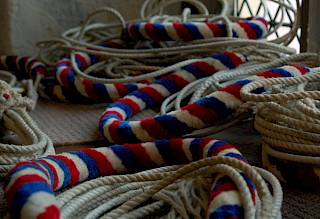 New ringers are always welcome so that these wonderful bells never fall silent. Learning to ring is challenging and rewarding. It is excellent exercise and also keeps the brain active. People who suffer with back problems find it especially beneficially. There is no upper or lower age restrictions, although children under the age of 11 may find even the lightest bell a little heavy for them.
Learning to ring is not quick. It is a challenge and needs a lot of initial practice, but anyone with the necessary dedication will find it a rewarding social pastime. Once you have mastered the technique it is just like riding a bike, you will always be able to do it, and you will undoubtedly get immense satisfaction from it. Why not wander along to the Tower one Wednesday evening between 7:30pm and 9:00pm and just sit and watch for a while. You would be most welcome.
We ring before Sunday and other religious services, for Weddings and even Christenings when requested. We celebrate all the annual festivals and other special occasions, and also ring in each new year, with the bells half muffled before midnight then 'open' after midnight.
Learning to ring is fun, mentally stimulating and great exercise. We are a friendly mixed bunch so please come along and see us. Many of us retire to the Plough after practice to relax and have a chat, and contrary to popular belief you do not need to be a regular Churchgoer to be a ringer. For more information contact Chris Surman (Secretary) on 01235 868749.