HDG Productions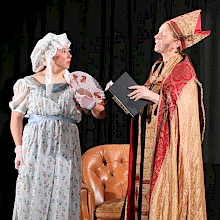 Annually at the beginning of February, Hanney Drama Group (HDG) presents a production. Typically this is a pantomine, but they also perform plays, variety shows and music halls at this time of year.
The first pantomime was performed very soon after the new Hall opened and was a version of Ali Baba and the 40 Thieves, in which a number of other local groups got involved (e.g. Keep Fit and Cubs). The second pantomime was a version of Cinderella written on a typewriter in only three weeks.
HDG have on occasion put on a Punch and Judy Show at the Michaelmas Fayre.